McNary is a lumber town situated in the White Mountains of east-central Arizona and at one time was operated by the Southwest Lumber Mills, Inc. The mill operations started in 1918 during World War I, when this district was known as Cooley.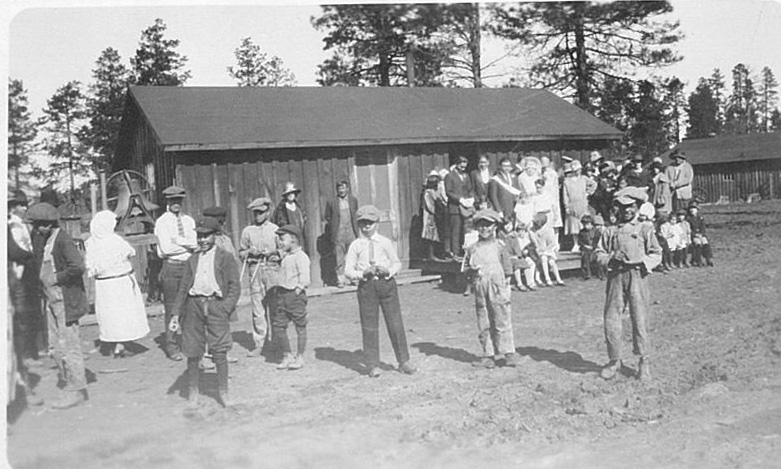 In 1924, the town was named McNary after the company's president, James F. McNary. The mill had a large number of black, Hispanic, and Navajo workers from the beginning. The black workers had relocated from another lumber mill in Louisiana, and the Hispanic and native workers were canvassed from communities throughout New Mexico. In the early days of the town, each community had its own "quarter", complete with a school and church.
In 1921, when the Franciscan Province of St. Barbara established a mission for the Apaches at Whiteriver, the headquarters of the Apache Indian agency, the Franciscan missionary there began to make the arduous trip to McNary to minister to the spiritual needs of the Spanish Catholics. A rude cabin "down in the quarters" served for years as a chapel. In a letter dated April 21, 1931 from the agency superintendent at Whiteriver, a parcel of 2 ½ acres on the Springerville highway was assigned for the exclusive use of the Catholic Church. On this land a church was soon built through a generous donation from the Catholic Church Extension Society of U.S.A. A bronze plaque in the church names James, Elizabeth and Mary Ann Bruce, and Susan Merritt as the benefactors. The Extension Society has continued to aid this mission parish through the years with grants and subsidies. For two short periods, namely from January through March 1924 and the first half of 1930 and the end of 1931, McNary was served by the pastor at Holbrook. The most Rev. Daniel J. Gercke, Bishop of Tucson, in a letter dated September 11, 1931 definitely placed McNary under the jurisdiction of the Franciscan Province of St. Barbara in Oakland, California.
On July 11, 1944 the building of a modest rectory adjoining the church started, and during the 30's, 40's and 50's St. Anthony's had its greatest growth. Then, when the sawmill closed, the parish declined. McNary is now mostly a tourist town, with summer homes and a greater use of the Sunrise Ski Area.
In 1965, plans for a parish hall were formulated and a building was purchased and moved in for that purpose. In the mid 1960s, the population began to decline when the lumbering business closed, but tourism, ski resorts and summer residents have kept this an active parish.
In 1974, the Franciscans turned the parish of McNary over to the Diocesan priests.
The church has been enlarged, repaired and remodeled over the years, with the last blessing of a remodeled church in 1985.
Comments
comments