Fr. Francis Joseph (Joe) Redinbo, O.F.M.
From Fr. Jack Clark Robinson, Provincial –
"May the Most High give you peace. Joe was never one to simply be part of a crowd. That was my first thought when I heard that he had died not on Christmas Day, as have seven friars of St. John the Baptist and Our Lady of Guadalupe Province before him, but that Joe died at 11:45 p.m. on Christmas Eve. He had been in Hospice Care only since the 21st, so his death was a bit unexpected, though his health had been deteriorating for quite a while and somewhat precipitously in the last few weeks. On Saturday afternoon, I was with him for about an hour, during which time he received a Baltimore Colts sock cap and a tin of sugar cookies as a Christmas present. He immediately nodded yes to both my questions: did he want to try the cap on, and did he want a cookie? He wore the cap and tightly grasped a cookie between finger and thumb, until in his sleep, he scrunched his shoulders, rolled over in his bed with the cap and the cookie both lost somewhere under his covers! As Marta Ortiz, our Health Care Coordinator recalled Joe saying any time the weather got cold, "I am ready to go." Under the covers, Joe, too, slipped away to God's warmth.
"Francis Joseph (Joe) Redinbo was born in Lafayette, Indiana on the 20th of March 1933, the son of the late Ansel Redinbo and Mary Catherine Steinmetz. He had two brothers, James and the late Gerald Redinbo, as well as two sisters, Katherine (Kay) Myers and Anita (Ann) Witham. Joe entered the novitiate in 1950 and made his first profession of vows on the 16th of August 1951, then his solemn profession of vows on the 16th of August 1956. He attended the internal schools of St. John the Baptist Province. His living classmates in St. John the Baptist Province are Anthony Walter, Jeremy Harrington and Martin Humphreys. His only classmate in Our Lady of Guadalupe Province was +Ulric Pax, the last friar of the province to precede Joe in death.
"After ordination on the 13th of June 1959, Joe held a dizzying number of assignments, though primarily in the Southwest and in Mexico. He always seemed ready to go at a moment's notice and to engage in lots of ministry that others might have shied away from doing. He spent five years in the missions of St. John the Baptist Province in West Texas in the 1960s. In a variety of assignments, some of them in very remote areas where Spanish was a second language to numerous indigenous languages, Joe ministered about seventeen years in Mexico. In the last twenty years, Joe served at Peña Blanca twice and Tohatchi twice, as well as in Roswell. In 2011, he retired for health reasons to San Juan Diego Friary in Albuquerque, and then was one of the first friars to go to St. Clare Care Center with the Felician Franciscan Sisters in Rio Rancho in 2013. There he received loving care from the staff and greatly enjoyed the company of our Felician Franciscan Sisters. We want to extend our appreciations to them for their care and concern for Joe, as well as to Ms Marta Ortiz for overseeing his care so carefully and well.
"The reception of the body, with funeral to follow, will be at 9:00 am on Thursday, the 28th of December 2017 at Assumption of the Blessed Virgin Mary Convent of the Felician Franciscans in Rio Rancho. Fr. Ron Walters, O.F.M., Chaplain of the Sisters and Joe's last Guardian, will preside and preach. We want to thank Sr. Jane, Sr. Ann and all of the Felician Sisters as well for their assistance with the funeral. Joe's burial will follow immediately the funeral in the Friars' Plot at Mt. Calvary Cemetery in Albuquerque.
"Expressions of condolence to Joe's family may be extended via Ms Kay Myers, 6290 Evanston Avenue, Indianapolis, Indiana 46220."
Joe Redinbo's Ministerial Assignments:
1960-1962 Keams Canyon, Arizona
1962-1963 Laguna Pueblo, New Mexico
1963-1965 Big Lake, Texas
1965-1968 San Angelo, Texas
1968-1969 Gallup, New Mexico
1969-1970 Orizabita, Mexico
1970 San Fidel, New Mexico
1970-1975 Hidalgo, Mexico
1975-1979 Santiago, Hidalgo, Mexico
1979 Garden Plain, Kansas
1979-1980 Grants, New Mexico
1980-1982 Roswell, New Mexico
1982-1984 Ciudad Juarez, Mexico
1984-1986 Peña Blanca, New Mexico
1986-1987 Holy Family, Albuquerque
1987-1989 Jemez Pueblo, New Mexico
1990-1994 Cuauhtemoc, Mexico
1994-1995 Nonoava, Mexico
1995-2002 Peña Blanca, New Mexico
2002-2004 Tohatchi, New Mexico
2004-2008 Peña Blanca, New Mexico
2008-2009 Roswell, New Mexico
2009-2011 Tohatchi, New Mexico
2011-2013 San Juan Diego Friary, Albuquerque
2013-2017 St. Clare Care Center, Rio Rancho
Sister M. Carmelita Erdman, SSND
Former teacher, principal, director of religious education and pastoral minister.
Sister M. Carmelita Erdman, SSND, died Saturday, December 16, at Anna House in Bridgeton, Missouri. She was 89, and a former teacher, principal, director of religious education and pastoral minister.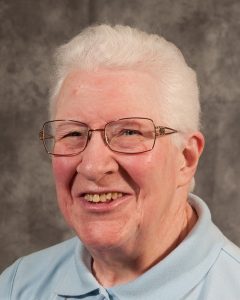 The memorial Mass was celebrated December 29 at Sancta Maria in Ripa in St. Louis. She donated her body to the St. Louis University School of Medicine.
Sister Carmelita was born in Hereford, Texas. She entered the congregation of the School Sisters of Notre Dame in 1946, and professed first vows in 1948 and final vows in 1954.
She earned a bachelor's degree in elementary education from the former Notre Dame College in St. Louis, and a master's in elementary education from St. Mary University in Leavenworth, Kansas.
Sister Carmelita began her teaching ministry at St. Clare in St. Clair, Missouri. This ministry was followed by teaching positions in Missouri at St. Martin in Jefferson City, Sacred Heart in Eureka and St. Joseph in Farmington; St. Joseph in Freeburg, Illinois, and Sacred Heart in Lawrence, Nebraska. She was principal at Sacred Heart, Lawrence, Nebraska, for six years. She taught religious education for 13 years at St. Mary and Cardinal Stritch, Keokuk, Iowa, Sacred Heart, Dexter, Missouri; Our Lady of Mount Carmel, Herrin, Illinois; St. Michael, Staunton, Illinois; Immaculate Conception, Cuba, New Mexico; and St. Francis, Lumberton, New Mexico. She also served in pastoral ministry for 10 years at St. John, Leopold, Missouri; St. Michael, Staunton, Illinois; and St. Francis, Lumberton, New Mexico.
After 14 years of community service at the former St. Louis motherhouse, she retired to Veronica House in 2012. She was transferred to Anna House in June 2017.
Sister Carmelita is survived by a brother, Charles Erdman of Rio Rancho, New Mexico. Memorial contributions may be made to the School Sisters of Notre Dame, Mission Advancement, 320 E. Ripa Ave., Saint Louis, MO, 63125-2897, or online at ssndcentralpacific.org/give.
Comments
comments